About This Product - Tropical Flavor

Fudgy and nougaty, chewy but with a surprising crunch factor - our Snowbits Treats are pastry hybrids born from the sticky fusion of a milky nougat-like mixture, biscuits, nuts, and real dried fruits, it is slightly chewy at first bite but its inside reveals a pillowy and almost marshmallow-like texture complemented by the contrast of crunchy biscuit, nut bits, and real fruit pieces to balance out its sweetness. Individually packed for convenience and with a non-sticky texture for a no-mess eating experience, they're a delightful little treat to yourself no matter the time or place.


Product Details
Approximately~15 Pieces ( NET WEIGHT  5.5 Ounces)
Only 3g Sugar and 45 Calories! Real fruits! Real Ingredients!
Allergy Information
Contains gluten, gelatine, nuts, and dairy products.


Country of Origin: United States (All of our products are made in New York City 1-2 days prior to shipping to ensure freshness)

We guarantee that you will be satisfied with the freshness and quality of this product and that it will be delivered to your home within any applicable use by, sell by, best by or expiration dates.
Ingredients
UNSALTED BUTTER, MILK POWDER, CASHEWS, ALMONDS, PISTACHIOS, PECANS, WALNUTS, DRIED KIWI, DRIED MANGO, RAISINS, MARSHMALLOW, BISCUIT, ORANGE EXTRACT.
Nutrition Information

Disclaimer: All of our products are handcrafted and the actual products may differ from images presented on our website. Thank you for understanding. 
Awesome treat.
Really love these,each one is tasty and satisfys your tastebuds.
DELICIOUS.......FANTASTIC........CHEWY.......WONDERFUL TREATS!!
So glad we tried Snowbits Sweet. We have ordered them more than once. These awesome little squares and dates are so very good!! We have tried every flavor! And every single one is good. You can't go wrong with whatever you order! It's all delicious. I even keep some in my purse, so when we are out and about we have these for a little snack. Being individually wrapped makes this easy to do. WE LOVE THEM!!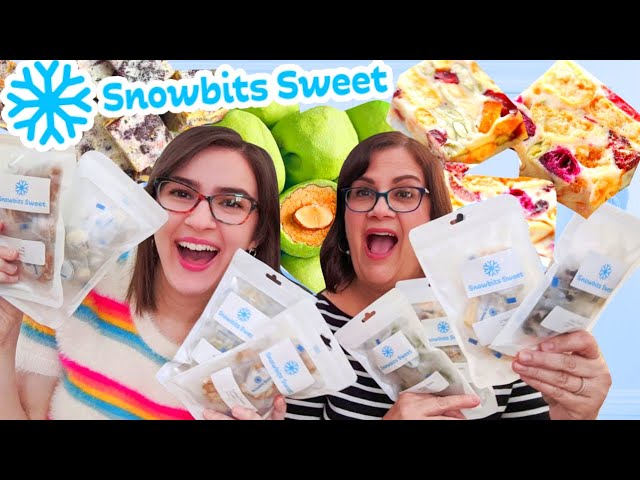 Little bits of joy!
I've ordered the mixed bag and several separate flavors a few times. I really liked each flavor although some more than others. I adore the chewy texture and will continue to order throughout the year.